Si tratta di una stipulazione molto violenta, usata soprattutto nelle federazioni più estreme (come la defunta ECW o la CZW). Si tratta di un match senza DQ o count-out in cui le corde del ring sono sostituite (oppure avvolte) da filo spinato; il match viene visto per pinfall o sottomissione.
Una variante è il Barbed Wire Massacre, in cui, oltre alle corde fatte di filo spinato, ci sono anche altre tavole con il filo spinato e altre armi posizionate intorno al ring, a disposizione degli atleti coinvolti che possono usarle a loro piacimento.
Il più famoso Barbed Wire match della storia fu quello combattuto a ECW Born to Be Wired 1997, in cui Sabu sconfisse Terry Funk dopo essersi gravemente infortunato a un braccio.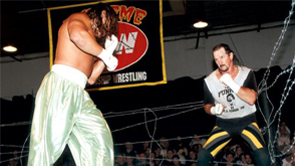 Barbed Wire match: Sabu vs Terry Funk; ECW Born to Be Wired 1997)