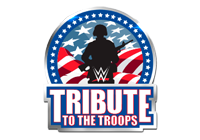 Prima edizione: 25 Dicembre 2003
Durata: 1-2 ore



Tribute To The Troops è un evento speciale della WWE (insieme alla Armed Forces Entertainment) e va in onda nel mese di dicembre sulla NBC e su USA Network (in Italia su Sky Sport).
Si tratta di un evento gratuito riservato e dedicato alle forze armate americane e si tiene annualmente durante le feste natalizie in basi militari, in passato anche in zone di guerra.
Solitamente, oltre ai match, vede la presenza di messaggi di celebrità, esibizioni musicali e video dedicati alle truppe armate.




---