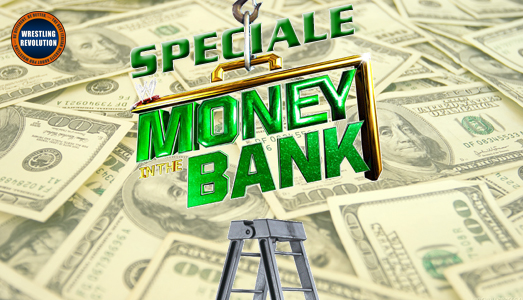 Il Money in the Bank Ladder Match (MITB) è una delle poche stipulazioni made in WWE a rappresentare ancora una garanzia di spettacolarità, in un periodo storico in cui le storyline sono fortemente privilegiate rispetto allo spettacolo mostrato sul ring. Fondamentalmente, il MITB è un Ladder match (incontro con la scala), in cui un numero variabile di avversari (da 6 a 10) si affronta per riuscire a conquistare una valigetta -e la title shot in essa contenuta- sospese al di sopra al ring.

La title shot del MITB gode di caratteristiche uniche: permette infatti al suo possessore di affrontare uno dei due (o dei tre, ai tempi della ECW) campioni mondiali in qualsiasi momento, godendo quindi della regola 24/7 come per il vecchio titolo Hardcore. In moltissimi hanno sfruttato questa gabola per incassare la shot in un momento di forte empasse del campione di turno.

L'invenzione di questa contesa viene attribuita al wrestler Chris Jericho. Lo stesso Jericho conferma la cosa nella sua seconda autobiografia 'Undisputed', fornendo inoltre interessanti dettagli circa la genesi del match. Il canadese ideò la contesa per permettere ai molti Mid-Uppercarders, tagliati fuori dai match più importanti di WrestleMania 21, di avere comunque uno spazio di un certo rilievo nello Showcase of Immortals. Il nome originariamente pensato per il match era 'Hollywood Ladder', e la valigetta avrebbe dovuto contenere una forte somma di denaro. L'idea ebbe una lunga gestazione che portò prima al cambio del nome in 'Money in the Bank', e infine del contenuto della valigetta.