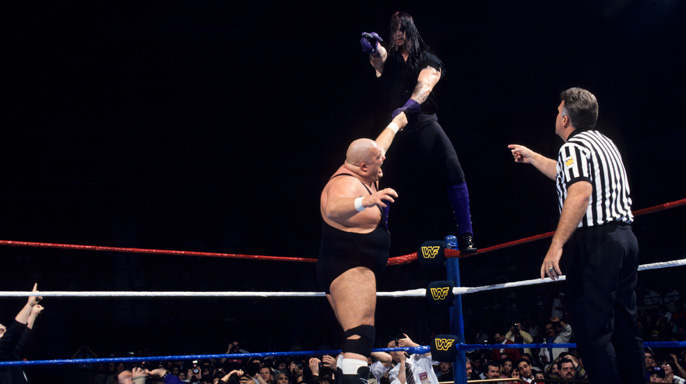 4-0
Dopo le prime impressionanti vittorie ottenute a WrestleMania e poi nel corso degli anni anche durante gli show della WWF, The Undertaker è costretto a saltare WrestleMania X per infortunio lasciando ad altri lo spotlight dell'evento.
A WrestleMania XI si aggiunge una nuova vittima alla sua Streak che pian piano sta prendendo sempre più forma. Con avversari che lo hanno fronteggiato fisicamente e psicologicamente senza successo, il suo nemico per WrestleMania, King Kong Bundy, cambia strategia e cerca di conquistare la sua aurea mistica, l'Urna. Alla Royal Rumble la Corporation del Million Dollar Man Ted DiBiase ruba l'Urna di Undertaker cercando così di sottrarre al deadman i suoi poteri soprannaturali.
A WrestleMania XI King Kong Bundy e Ted DiBiase entrano per primi sullo stage con in possesso l'Urna che conferisce i poteri a Undertaker. Il Deadman ed il suo manager storico Paul Bearer sono intenzionati a riprendersi ciò che è loro. Inizia il match e The Undertaker si trova in difficoltà contro il suo gigantesco avversario e, come fatto con Giant Gonzales due anni prima, servono tre Clothesline per mettere a terra il suo nemico. Si lancia all'inseguimento del Million Dollar Man e riesce a conquistare la sua Urna tra il tripudio del pubblico e la riconsegna nella mani di Paul Bearer; tuttavia un interferenza di Kama permette a Ted DiBiase di recuperare l'Urna dalla mani del manager del Deadman ed i due spariscono nel backstage portandosi via l'Urna.
Con i suoi poteri lontani dal ring The Undertaker fatica contro il suo immenso nemico, ma malgrado tutto riesce a sollevare i quasi 200 chilogrammi di Bundy e lo schianta al tappeto con una Body Slam. Una running clothesline chiude l'incontro e consegna la quarta vittoria consecutiva al becchino a WrestleMania.
Per la prima volta veniva utilizzato a WrestleMania l'espediente di indebolire Undertaker portando via i suoi poteri, tuttavia la storia raccontata nel ring è stata un'altra. Fondamentalmente Taker è riuscito a controllare abbastanza facilmente il suo avversario e lo ha sollevato senza grossi problemi dimostrando, quindi, che l'Urna non era poi così importante visto che era in grado anche senza i suoi poteri mistici di sconfigge un avversario di questa portata.
Rimane uno dei match peggiori della Streak di Undertaker. Azione lenta e goffa nel ring, un pubblico che quindi ha faticato a interessarsi veramente allo scontro ed inoltre per la seconda volta il Deadman chiude il suo match senza utilizzare la Tombstone Piledriver.