Beat The Clock Challenge match è il nome dato a ognuno degli incontri disputati durante una Beat The Clock Challenge, un particolare torneo basato sulla durata dei match; in questo torneo infatti vengono disputati un certo numero di Beat The Clock Challenge match e il vincitore finale del torneo è colui che riesce a sconfiggere il suo rivale nel minor tempo.
Si tratta sostanzialmente di un Single match, che quindi può concludersi per pinfall, sottomissione, DQ o count-out; la differenza rispetto a un classico match singolo è il tempo. Il primo di questi match non ha limiti di tempo, e una volta concluso la sua durata diventa il Time limit per il successivo Beat The Clock Challenge match; quello dopo, infatti, ha come limite di tempo la durata del precedente: se non si conclude con un vincitore entro tale limite di tempo viene dichiarato concluso senza un vincitore in pareggio ("Draw"), mentre se si conclude prima del limite la sua durata fissa un nuovo limite di tempo, che quindi fungerà da Time limit per i Beat The Clock Challenge match successivi.
Con queste Beat The Clock Challenge viene solitamente (ma non sempre) messo in palio qualcosa, soprattutto lo status di #1 Contender a un determinato titolo.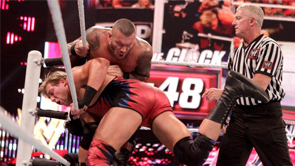 Beat The Clock Challenge match: Jack Swagger vs Randy Orton; WWE RAW 30-04-2012