"…e li getteranno nella fornace ardente, ove sarà pianto e stridore di denti."(Mt, 13,42)
Sono proprio le fiamme della "fornace ardente", le fiamme dell'Inferno, a farla da padrone in questo match. Infatti, in questa stipulazione il ring è completamente circondato dalle fiamme, che escono da una canalina (posizionata accanto all'apron ring) che percorre tutto il perimetro del ring. I due lottatori coinvolti nel match si danno battaglia al centro del ring e il match finisce quando uno dei due lottatori coinvolti prende fuoco (solitamente prende fuoco una parte del suo ring attire); viene quindi dichiarato vincitore l'altro wrestler.
Le fiamme (che sono controllate da un addetto) aumentano d'intensità quando un lottatore esegue una manovra maggiormente d'impatto.
Ovviamente questo match non prevede pinfall o sottomissioni, né tantomeno il count-out (visto che non potrebbero uscire e rientrare a causa delle fiamme…) o la DQ.
Si tratta di una stipulazione molto rara, che viene lottata solo nella tipologia 1 vs 1.
L'Inferno match viene solitamente abbinato alla figura di Kane, lottatore che fa delle fiamme il suo aspetto più caratteristico. Infatti, Kane ha lottato in tutti gli Inferno match fatti in WWF/WWE e ha anche partecipato al primo Inferno match della storia, in cui ha perso contro The Undertaker (ad Unforgiven 1998).
Una moderna variante dell'Inferno match è il Ring of Fire match. Questa stipulazione viene anch'essa combattutta all'interno di un ring circondato da fiamme, ma non si vince facendo prendere fuoco al rivale (come nell'Inferno) bensì per pinfall o sottomissione. Questa variante è stata finora lottara in una sola occasione, nella tipologia 1 vs 1.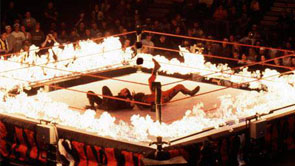 Inferno match: Kane vs The Undertaker; WWF RAW is WAR 22-02-1999