Questa stipulazione di incontro segue le stesse regole del Single match (o del Tag team match, se coinvolge dei team), però con la sostanziale differenza che il match non finisce alla prima caduta ma per vincere occorre ottenere due cadute a proprio favore; cadute che ovviamente possono essere ottenute per pinfall, sottomissione, count-out o DQ.
Solitamente, subito dopo una caduta viene fatto trascorrere un breve periodo di pausa (30 secondi, di norma) per lasciare un minimo di tempo al lottatore che ha subito la caduta di riprendersi; questa regola non è però sempre presente.
Una variante di questa tipologia di match è il Three Stages on Hell match (conosciuto in TNA come Three Degrees of Pain match o a Lucha Underground come Hell of War match), ossia sempre un match al meglio dei 3 in cui però per ogni caduta viene applicata una diversa stipulazione.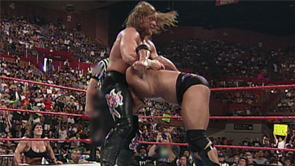 2 out of 3 Falls match: The Rock vs Triple H; WWF Fully Loaded 1998