La Battle Royal è un match in cui un numero variabile di wrestler lottano tra loro in un incontro a eliminazione; i match inizia con tutti i partecipanti presenti sul ring e termina quando rimane un solo partecipante, che viene proclamato vincitore.
Nella maggior parte dei casi le eliminazioni avvengono secondo la regola "Over the tope rope", ossia gettando l'avversario fuori dal ring facendolo passare da sopra la terza corda; l'eliminazione viene convalidata quando il lottatore lanciato fuori tocca il pavimento all'esterno del ring con entrambi i piedi. Nel caso coinvolgano le Divas (Divas Battle royal), l'eliminazione avviene lanciando le altre fuori dal ring, senza che ciò avvenga necessariamente da sopra la terza corda.
Le Battle Royal solitamente coinvolgono un buon numero di wrestler. Possono però essere anche disputati in 1 vs 1 secondo le regole dell'eliminazione per Over the top rope; in questi casi si parla di Over the top rope challenge.
In alcuni casi vengono anche disputate delle Battle royal in cui le eliminazioni avvengono secondo le regole dei single match: quindi per pinfall, sottomissione, count-out o DQ. (in questo caso si tratta di un Elimination match)
Esistono inoltre delle Tag team battle royal, in cui a darsi battaglia sono dei team invece che dei lottatori singoli. In questa variante, un team può essere eliminato quando solo uno dei membri viene eliminato oppure quando vengono eliminati tutti i membri del team (dipende da quale delle due possibilità viene scelta).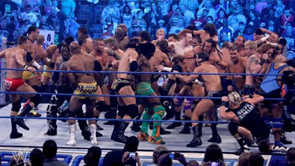 41-men Battle Royal; WWE SmackDown 14-10-2011