Questa stipulazione ricorda i duelli al primo sangue con cui nel periodo rinascimentale (e non solo) i signori difendevano il loro onore.
E infatti anche il First blood match è un match al primo sangue, in cui per vincere bisogna far sanguinare il proprio rivale (da qualsiasi parte del corpo). Nella maggior parte dei casi non serve che sia proprio il vincitore del match a provocare il sanguinamento del proprio rivale; basta che uno dei due lottatori inizi a sanguinare (per qualsiasi motivo) e questi viene dichiarato sconfitto. Perché il match venga dichiarato concluso, l'arbitro deve assicurarsi che il perdente stia effettivamente sanguinando.
Ovviamente, questo match non prevede la fine del match per pinfall, sottomissione, count-out o DQ; viene lottato solo nella tipologia 1 vs 1.
Il primo First Blood match della storia del wrestling ha visto Kane sconfiggere Steve Austin a WWF King of the Ring 1998.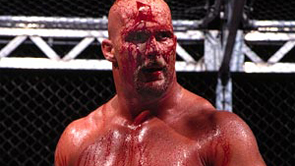 First Blood match: Kane vs Steve Austin; WWF King of the Ring 1998